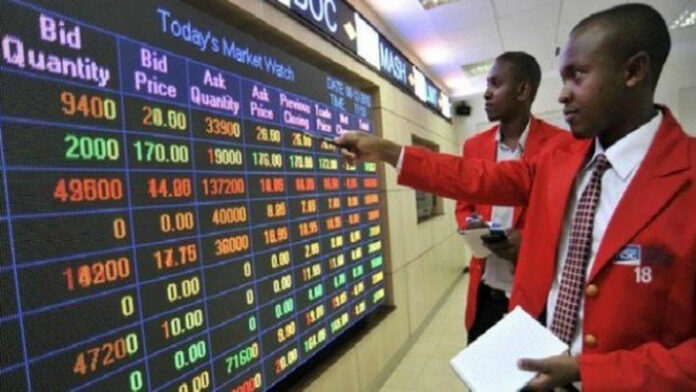 Equity investors in the Nigerian Exchange (NGX) lose more than N83 billion in the first trading session in the new week as the local bourse keeps negative swings.
After an unimpressive outing in the just concluded, stock market resumed the new week on a bearish sentiment, the sell-down has persisted for six-consecutive trading days.
Today, there was noticeable sell-offs in all the sectors, led by banking and other industries stock amidst Omicron fears in the global economic space.
Due to this, the Nigerian Exchange All-Share Index dropped 159.31 basis points, representing a decline of 0.38 per cent to close at 42,008.31 points.
Consequent to the profit-taking mood, the stock market capitalisation lost ₦83.13 billion, representing a decrease of 0.38 per cent to close at ₦21.92 trillion.
However, the market activities were bullish as the total volume and value traded rose by 133.31 per cent and 84.34 per cent, respectively.
NGX data shows that 422.18 million units valued at ₦4.47 billion were transacted in 5,059 deals. FBNH topped as the traded stock in terms of volume, accounting for 30.52 per cent of the total volume of trades.
This was followed closely by STERLNBANK (18.42%), GTCO (11.32%), UCAP (4.96%), and UBA (4.40%) to complete the top five on the volume chart.
Also, FBNH emerged as the most traded stock in value terms, with 33.68 per cent of the total value of trades on the exchange.
In terms of profitability, ROYALEX appeared as the most profitable stock to lead the advancers' chart with a price appreciation of 9.43 per cent. Also, the stock was trailed by CHIPLC (9.09%), ACADEMY (7.69%), INTBREW (2.04%), PZ (0.84%) and five (5) others.
On the flipside, 24 stocks depreciated, topped by WAPCO with a price depreciation of 9.94 per cent to close at ₦22.2.
VITAFOAM share price lost 8.68%, UBA declined 5.06%, ETERNA tumbled 4.13%, DANGSUGAR dropped off 3.13%, CUSTODIAN dipped 2.60%, ACCESS knocked off 2.25%, FBNH moderated by 0.85%, GTCO depreciated by 0.62% and UCAP fell 0.51%.
As a result, the market breadth closed negative, recording 10 gainers and 24 losers. All the market sectors of the market were negative, led by Insurance (-1.77%), Banking (-1.37%), Industrial Goods (-0.58%), Consumer Goods (-0.34%) and Oil & Gas (-0.11%), respectively.