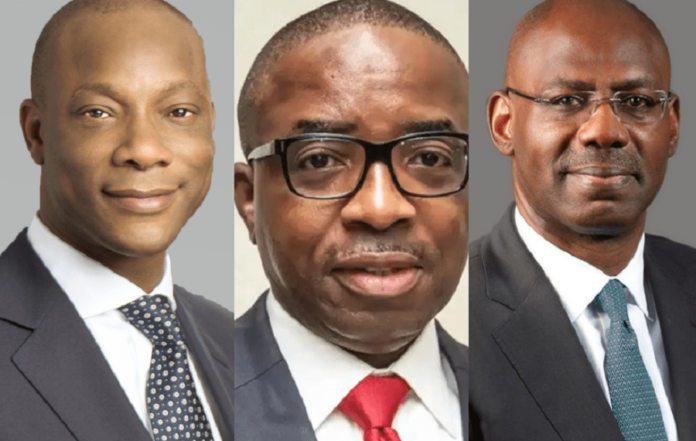 How Banks Debit N88.9bn from Customers on account maintenance in 9 months 2021

Banks listed on the floor of the Nigerian Exchange scooped a sum of N88.9 billion from account maintenance charges in the 9-month period of 2021 (January – September). BUSINESS EDITOR, NIYI JACOBS writes from the data extracted from the quarterly financial statements of the twelve listed banks.

Banks' earnings from account maintenance charges, though low when compared to other revenue streams, still make up a significant portion of their non-interest income.
According to the directive by the Central Bank of Nigeria on bank charges, Nigerian banks are allowed to charge their customers a "negotiable" N1 per mille.
What this means is that banks can charge N1 per N1000 debit transactions on current accounts. Banks' account maintenance charges come in the form of COT (i.e., Commission on Turnover) which is a charge levied on customer withdrawals by their banks. In Nigeria, these charges are mainly applicable to current accountsZenith Bank, Access Bank and GTB led the list of banks in Nigeria with highest income from account maintenance in the period under review. The amount generated from account maintenance charges in 2021, represented a 39.5% increase compared to N63.7 billion recorded in the corresponding period of 2020.
Also, it represents a 41.4% increase compared to N62.9 billion generated in the 9-month period of 2019. It is worth noting that the banks were only able to manage a marginal increase in account maintenance income in the previous year, while the world was dealing with the Covid-19 pandemic and lockdown measures.
However, with businesses around the world and in Nigeria reopening and the economy returning to normalcy, the banking sector is beginning to record massive growth in top and bottom line. Notably, according to data from the National Bureau of Statistics (NBS), the financial sector grew by 25.5% in Q3 2021, from a contraction of 4.54% recorded in the previous quarter.
here are the the list of Nigerian banks based on their revenue in the 9-month period ended September 2021 from account maintenance charges.

UBA – N7.11 billion
United Bank for Africa came fifth on the list with N7.11 billion revenue from account maintenance, which is 21.6% higher than N5.85 billion recorded in the corresponding period of 2020. Also, compared to N6.04 billion recorded in the same period of 2019, it increased by 7.8%.
It is worth noting that, the pan African bank's account maintenance income accounts for 8% of the total N88.9 billion recorded by the 12 banks under consideration. In terms of the bottom line, UBA grew its profit after tax by 35.6% year-on-year to N104.6 billion, fourth on the list of highest earners.

FBN Holdings – N11.74 billion
FBN Holdings, the holding company of First Bank of Nigeria saw its account maintenance income surge by 33.3% from N8.81 billion generated in the nine-month period of 2020 to N11.7 billion in 2021. On the other hand, it increased by 19.8% compared to N9.81 billion generated in the same period of 2019.
Despite the growth in account maintenance revenue, gross earnings during the period reduced marginally by 2.8% to N427 billion. This is due to a 12.6% decline in its interest income during the period, which resulted to a year-on-year decline in its bottom line.
Specifically, profit after tax dropped by 24.8% to N40.85 billion in the 9-month period of 2021 compared to N54.4 billion recorded in the previous year.
GT Bank – N13.02 billion
GT Bank generated a sum of N13.02 billion from account maintenance income between January and September 2021. This represents a 36.5% increase compared to N9.54 billion recorded in the corresponding period of 2020. Compared to N8.54 billion recorded in 9-month 2019, account maintenance income increased by 52.5%.
However, its net profit dropped by 9.1% compared to N142.3 billion recorded as of the same period in the previous year to stand at N129.4 billion. This was largely affected by the 14.5% decline in its interest income during the period under review.Access Bank – N16.21 billion
Access Bank, the largest financial institution in the country by customer base and total assets value, boasted of a N16.2 billion income from account maintenance charges, representing 50.9% increase compared to N10.7 billion recorded in similar period of 2020.In similar fashion, the bank which is set to restructure into a non-operating financial holding company grew its profit after tax to N121.9 billion from last year's figure of N102.3 billion, representing a 19.1% year-on-year increase.

Zenith Bank – N24.18 billion
Zenith Bank seats comfortably in top position having generated a sum of N24.2 billion from account maintenance, representing 27.2% of the total income by the 12 banks. Zenith Bank increased its account maintenance income by 41.9% and 52.9% compared to N17.15 billion and N15.82 billion recorded in the corresponding periods of 2020 and 2019 respectively.
Similarly, the tier-1 giant printed a year-on-year marginal increase in its profit after tax to N16.6 billion compared to N159.3 billion recorded in the corresponding period of 2020. In comparison to other listed banks, Zenith Bank recorded the highest net profit, representing 24% of the total N668.7 billion recorded by the industry in the period under review.Bubbling under
Stanbic IBTC – N3.8 billion (+32.5%)
FCMB – N3.4 billion (+33.3%)
Fidelity Bank – N2.9 billion (+48.7%)
Sterling Bank – N2.1 billion (+51.3%)
Union Bank – N1.7 billion (+42%)
Meanwhile, Nigerian Banks grew their deposits by 11.5% in the first 9 months of 2021 as competition to grow deposits intensified.
Data from Nairalytics Research show total customer deposits held in ten of Nigeria's largest banks topped N34.4 trillion in the first 9 months of 2021 about N3.55 trillion higher than what was reported at the end of 2020.
Nigerian banks have deployed mobile technology, agency banking, business strategies and other traditional forms of marketing in driving deposits. Competition has been intense with the advent of challenger banks offering zero or next to nothing in charges to migrate. All 10 banks now have deposits in excess of N1 trillion.
A closer look into the data reveals Access Bank came tops as the bank with the largest customer deposit in Nigeria with N6.2 trillion. The bank grew its deposits by 11.4% Year to date as it cemented its leadership in deposit mobilizing among its peers. Access Bank's deposit however remains at 18% of total banking sector deposits.
UBA edged out Zenith Bank as the second largest bank with deposits, posting a 7.2% rise in customer deposits to N6.08 trillion. Zenith Bank reported a total of N6.04 trillion in third place growing deposits by a whopping 13.1%. Zenith Bank's deposit growth was the highest among its FUGAZ peers. GTB reported a deposit of N3.7 trillion representing a 6.7% rise.

Tier 2 Banks

Stanbic IBTC is the most aggressive bank this year when it comes to deposits, crossing the N1 trillion mark after recording a massive 33.5% deposit growth this year. The tier 2 bank has been knocking on the FUGAZ door for years and could join the fray if it continues its sojourn into more retail banking. Stanbic recorded significant deposit growth in its term deposit category jumping from N98.2 billion to N338.7 billion between December last year and September 2021.
Next to Stanbic is Sterling Bank with a 21% rise in deposits to N1.1 trillion compared to N950 billion in December 2021. Just like Stanbic, growth for Sterling Bank came from its term deposits which doubled from N155.2 billion to N302.5 billion. Fidelity Bank, FCMB and Union Bank all recorded double-digit growth in their deposits.
Threat of Challenger Banks
The latest development in the financial services space poses a major threat to the ability of Nigerian banks to continue to hold on to these deposits. Challenger banks such as Kuda, V Bank have made significant inroads into the retail banking space as they offer incentives to younger Nigerians to abandon the more traditional banks.
With the continuous increase in mobile phone penetration, Nigerian banks have also fought back aggressively, upgrading their mobile bank applications with features that compete favourably with most of the challenge banking applications out there. Apart from Challenger banks, Payment Service Banks like MTN also provide a different form of competition to Nigerian banks.
Despite the threat posed by the competition, Nigerian banks still have significant headroom in terms of deposits and the ability to maintain their growth. While most newer banks focus on attracting younger account openers or newer businesses, traditional banks create a value chain of products built into their ecosystem that allows them mobilize a sizeable deposit. For example, deposits are mobilized from accounts held on behalf of thousands of fund managers, government accounts, large corporates with international presence, traders with high import and export needs, SMEs, manufacturers etc. Breaking this deposit chain will require a significant expansion of the operations of some of the challenger banks.
However, there is still a large room considering that bank deposits to GDP is still under 20%. The US for example has over 80%..
---