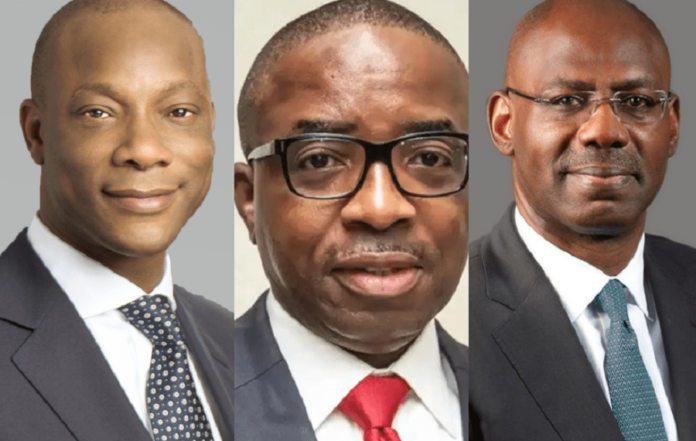 By NIYI JACOBS
The market capitalization of the top five banks, referred to as the Tier-1 banks or FUGAZ, appreciated by 1.34% to close at N2.72 trillion as at 25th of February, 2022, as investors in these banks gained a total of N35.83 billion during the trading week.
After 5 trading days of the week, 4 of the 5 tier-1 Nigerian banks enjoyed positive market sentiments, with Guaranty Trust Holding Co Plc leading the gainers.
According to data from the Nigerian Exchange (NGX), the market capitalization of the top five banks grew to N2.72 trillion, appreciating by 1.34% during the week.
A summary of the performances of each bank is captured below.
FBNH PLC
FBNH's share price grew by 1.32% to close the week at N11.55, with its market capitalization at N414.59 billion at the end of the week. Amid sell-offs and buy-interests, at the end of the trading week, FBNH share price stood at N11.55.
FBNH Plc's third-quarter 2021 result showed that Interest Income dropped by 12.63% Y-o-Y to N260.12 billion, from N297.71 billion recorded in the same period of 2020. Similarly, Net interest income declined by 15.45% Y-o-Y to N162.96 billion, against N192.74 billion recorded in the corresponding period of last year. Profit after tax declined significantly by 40.15% Y-o-Y to N40.79 billion during the period under review.
UBA PLC
United Bank for Africa Plc appreciated by 1.8% as its market capitalization closed the week at N297.53 billion, with its share price standing at N8.70.
UBA Plc released its Q3 2021 financials, revealing that net interest income appreciated by 23.25% to N229.27 billion from N186.02 billion, while total assets grew to N8.35 trillion from N7.7 trillion. In addition, the company's profit after tax rose by 35.61% to N104.60 billion, up from N77.13 billion in the same period of 2020.
GT Holding Company Plc
GTCO Plc appreciated by N20.60 billion after its market capitalization grew to N791.70 billion from N771.10 billion at the end of the week's trading session.
The growth can be attributed to the increase in its share price, from N26.20 traded at the end of last week, to N26.90 as at close of business, reflecting an increase of 2.67%.
In Q3 2021, the Group reported a decline of 7.48% in interest income from N74.52 billion recorded in the corresponding period of September 2020 to N68.94 billion in the current period. However, post-tax profit appreciated by 4.11% from N48.01 billion in 2020, to N49.99 in the current period.
Access Bank Plc
Access Bank Plc's share price remained unchanged to close the week at N10.35, and the market capitalization stood at N367.89 billion.
Access Bank Plc released its Q3 2021 financial result which revealed a decline in Net interest income by 3.43% to N67.66 billion, while profit after tax dropped by 9.11%, from N38.46 billion in September 2020 to N34.95 billion in September 2021.
Zenith Bank Plc
Zenith Bank Plc gained N4.71 billion w-o-w after its market capitalization appreciated to N846.14 billion from N841.43 billion at the end of the week. This appreciation can be attributed to the 0.56% growth in its share price, from N26.80 traded at the end of last week, to N26.95 at the end of this week.
The bank's nine-month financial result for the period ended September, revealed that Interest income for the period declined by 3.13% to N308.84 billion from N318.82 billion in the corresponding period of 2020. However, post-tax profit for the period reported a marginal growth of 0.80% from N159.32 billion in 2020 to N160.59 billion in the current period.
The Nigerian Exchange Limited (NGX) closed positive week-on-week as ASI appreciated by 0.40% to close at 47,328.42.
The FUGAZ banks make up over 70% of the NSE Banking sector index, hence, strongly influencing the growth or otherwise of the index. The NGX banking grew by 0.21% from 450.09 to close at 451.04 point
NCC raises alarm over software stealing banking app login details
The Nigerian Communications Commission (NCC) has alerted the Nigerian public to a newly discovered malicious software that steals users' banking app login credentials on Android devices.
The commission said that its Computer Security Incident Response Team (CSIRT), in security advice said that the malicious software called, Xenomorph, has been found to target 56 financial institutions from Europe as well as has high impact and high vulnerability rate.
It stated that the main intent of this malware is to steal credentials, combined with the use of SMS and Notification interception to log-in and use potential 2-factor authentication tokens.
Internet World Stats, Nigerian Communications Commission remittance, Network operators in Nigeria, Telecoms companies in Nigeria, MTN Nigeria, Airtel Africa, Globacom data, 9mobile court case, Top 10 states in Nigeria with the highest Internet subscribers , Telecommunications: The bright spot in a fragile economy, Telcos add 5.64 million voice and data subscribers in Q3 2019 – NBS , Alleged N200bn Debt: EFCC, DSS to probe telcos, Network glitch, as poor internet speed continues to impede banking services, Telecoms record 725% increase in foreign capital investment, as GDP contribution hits N6 trillion, Coronavirus: Instant messaging platforms, Telcos raking in funds from the work-from-home policy, Telecoms: Bright spot amidst the gloom, Nigerians lambast MTN, Airtel for offering free SMS, ignoring request for free data, airtime
This disclosure is contained in a press statement issued by the commission and signed by its Director, Public Affairs, Dr Ikechukwu Adinde, as can be seen on its website.
NCC in its statement said, ''Xenomorph is propagated by an application that was slipped into Google Play store and masquerading as a legitimate application called "Fast Cleaner" ostensibly meant to clear junk, increase device speed and optimize battery. In reality, this app is only a means by which the Xenomorph Trojan could be propagated easily and efficiently.
''To avoid early detection or being denied access to the PlayStore, "Fast Cleaner" was disseminated before the malware was placed on the remote server, making it hard for Google to determine that such an app is being used for malicious actions.
''Once up and running on a victim's device, Xenomorph can harvest device information and Short Messaging Service (SMS), intercept notifications and new SMS messages, perform overlay attacks, and prevent users from uninstalling it. The threat also asks for Accessibility Services privileges, which allow it to grant itself further permissions.''
The commission's CSIRT stated that the malware also steals victims' banking credentials by overlaying fake login pages on top of legitimate ones, noting that since it can also intercept messages and notifications, it allows its operators to bypass SMS-based two-factor authentication and log into the victims' accounts without alerting them.
It states, "Xenomorph has been found to target 56 internet banking apps, 28 from Spain, 12 from Italy, 9 from Belgium, and 7 from Portugal, as well as Cryptocurrency wallets and general-purpose applications like emailing services.
''The Fast Cleaner app has now been removed from the Play Store but not before it garnered 50,000+ downloads.''
The NCC in its advisory message urged telecom consumers to be on alert in order not to fall victim to this manipulation. It asked telecom consumers and other Internet users, particularly those using Android-powered devices to use trusted Antivirus solutions and update them regularly to their latest definitions.
The Commission also implore consumers and other stakeholders to always update banking applications to their most recent versions.
Recall that in January, the NCC warned the public against a new high-risk, critical and Short Messaging Service-based malware, TangleBot, infecting Android mobile devices.
The TangleBot was said to have employed more or less similar tactics as the recently-announced notorious FlutBot SMS Android malware that targets mobile devices, adding that it equally gains control of the device but in far more invasive manner than the FlutBot malware.
Also 2 weeks earlier, the commission warned members of the public against the activities of a cybercrime group that has perfected a New Year scheme to deliver ransomware to targeted organizational networks.