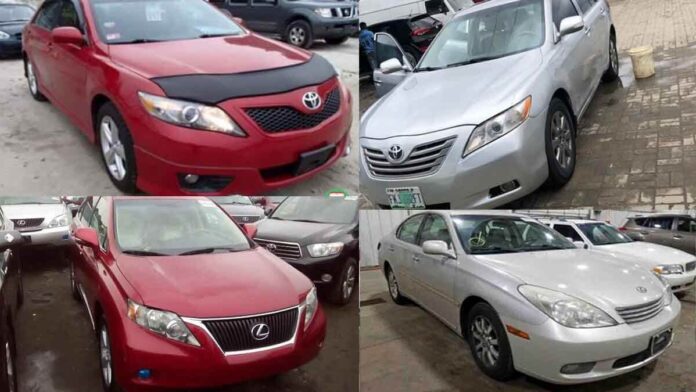 Against the backdrop of harsh operating environment, Nigeria's automobile industry has recorded 400 per cent rise in prices of vehicles while volume of sales has declined 80 per cent in the last decade.
Also, local manufacturing capacity utilization has crashed to less than two per cent.
Industry operators have attributed the development to inflationary pressures, exchange rate, tariff and adverse policies, all impacting negatively on the automobile sector.
The combination of these factors, according to them, has stifled both local manufacture and importation of new vehicles.
Also, while production of major, locally assembled vehicles have reduced drastically compared to two decades ago, the imported ones are restricted to few brands whose patronage has declined massively.
From 2017 to 2020, a total of 42,166 new vehicles were sold in Nigeria, far less than one-year sales volume 20 years earlier. Only 9,000 vehicles were sold in 2017, while 11,500 and 12,836 vehicles were sold in 2018 and 2019 respectively. The volume dropped to 8,830 in 2020 as 2021 figures is set for further decline.
Five years earlier, between 2010 and 2013, averages of 50,000 new vehicles were sold annually, indicating about 80 per cent decline in the five years between 2017 and 2021.
Market shares
Recent findings show that currently, Chinese brands are the main beneficiaries of the present challenges in the Nigeria auto industry as they are offered the opportunity to penetrate the market with less difficulty due to low prices and brand aesthetics.
Also, investigations show that prices of Korean models such as Kia and Hyundai have gone up astronomically, compared to their rates five years ago.
Also, some brands like Chevrolet, Isuzu, Brilliance, Chana, Lifan, Great Wall, Mazda, BYD, Zotye are hardly found in the Nigerian market in recent years. These brands had represented not less than 5.0 per cent of the auto market share in the country.
With the development, dealers say over 98 per cent of automobile sales in Nigeria are for imported used vehicles, up from 70 per cent two decades ago.
Price escalation
A major factor in the decline of fortunes in Nigeria's new vehicle market is the sharp rise in prices. For instance, the price of Kia Rio which used to be one of the cheapest cars some years back has gone up by 260 per cent to about N9 million from N2.5 million in 2015, while Kia Cerato has gone up by 300 per cent to about N12 million from about N3 million during the same period. The Kia Sorento is now selling for over N25 million, about 316 per cent from N6 million in 2015.
The Ford Explorer's price rose from N9 million to N35 million while Ford Ranger pick-up, Ford's fastest selling model in Nigeria, rose from N4.5million to N15 million.
Toyota, the leading brand in the country few years ago is not left out. The price of Corolla, Toyota's fastest selling sedan in Nigeria is now about N19.5 million, up by about 337.5 per cent from N4 million in 2015, while the flagship SUV Land Cruiser goes for more than N70 million, up by 178.6 per cent from N28million.
Luxury brands like BMW, Mercedes, Range Rover, Porsche, present same mind-boggling price skyrockets. The Mercedes-Benz E-class market price is over N50 million, up by 150 per cent from N20million, while the G63 AMG SUV is about N140 million, up 400 per cent from N28 million.
The Range Rover Autobiography, long and short wheel-base models with showroom prices of N45 million and N42 million respectively now cost N140 million and N110 million each to acquire.
Chinese brands which are gradually making waves in the nation's auto market are no exceptions in the price acceleration. As they improve in standard, design and popularity, the price tags are also on the rise.
The two leading Chinese passenger car brands, JAC and GAC also have their share of price increases. Though they do not present many models like the Japanese and Koreans, prices of the few available ones have tripled. The price of the GA3 saloon, GAC, has risen by 200 per cent to N9million from N3 million, while the GS5 which was replaced by GS4 SUV increased 160 per cent to 13 million from N5 million. The top of the range model, GS8 SUV, now has a showroom price starting from N25 million, over 100 per cent increase from N12 million when it was introduced just four years ago
Based on news reports, the House of Representatives recently resolved to constitute an ad hoc committee to investigate the collapse of automobile assembly plants in the country with the view of making insightful recommendations for the immediate resuscitation of the moribund plants. It is, however, unclear what this committee plans to look into almost a decade after the automotive policy was launched.
The Nigerian automotive policy was introduced in November 2013 to resuscitate Nigeria's moribund automobile industry. The policy allows local assembly plants to import completely knocked-down vehicles at 0% duty and semi-knocked-down vehicles at 5% duty, while importers pay a 70% duty on new and previously owned vehicles. About 54 licenses were granted. Also, an accommodating tariff of 35% was imposed on cars imported by companies who have expressed interest and met investment milestones for local assembly.
The economic recession in which the country slumped into shortly after the automotive policy was introduced did not bode well for the resuscitation of the industry. The weakened exchange rate sent the prices of new cars far above the reach of Nigeria's shrunk middle class.
Automobile dealers saw a significant fall in sales volumes and even locally assembled vehicles, for which the policy was enacted, experienced significant price increases and are also out of the reach of the average Nigerian. A report on the automobile industry at the time noted that the over 40 existing automobile plants in the country with an installed capacity of 500,000 cars annually were utilising less than 3% of installed capacity owing to low patronage.
The Nigerian Customs Service (NCS) placed a ban on the importation of vehicles through land borders effective January 1, 2017, following calls from stakeholders in the automotive industry for strict regulation of the importation of vehicles as the influx of vehicles, particularly used vehicles were affecting sales. This move was reportedly aimed at improving government revenues, discouraging vehicle imports while gradually phasing out used cars (popularly known as Tokunbo cars), and ultimately increasing patronage of locally assembled vehicles.
However, there were plans in 2019 to relax the ban on importation of vehicles through the land border following a successful implementation of a new initiative by the Nigeria Customs Service and the Customs Service of the Republic of Benin to automate and network all electronic information about incoming cargoes through the border.
There is a clause in the Nigerian Finance bill that should drive down import duty on foreign vehicles from 35% to 5%. This, according to the government, is to reduce the cost of transportation. Industry players and investors warn that if the bill is passed into law, it could mark the end of local manufacturing and significantly affect assemblers who have invested huge sums.
The Nigerian consumer has been through another recession since the first recession in 2016 and has been stifled by high inflation and multiple devaluations, implying the inability of a majority to afford new cars. Unless there is a thriving middle class, it will be correct to say the automobile industry cannot be successful as many Nigerians will continue to settle for Tokunbo cars.
CSL Stockbrokers Limited, Lagos (CSLS) is a wholly owned subsidiary of FCMB Group Plc and is regulated by the Securities and Exchange Commission, Nigeria. CSLS is a member of the Nigerian Stock Exchange.