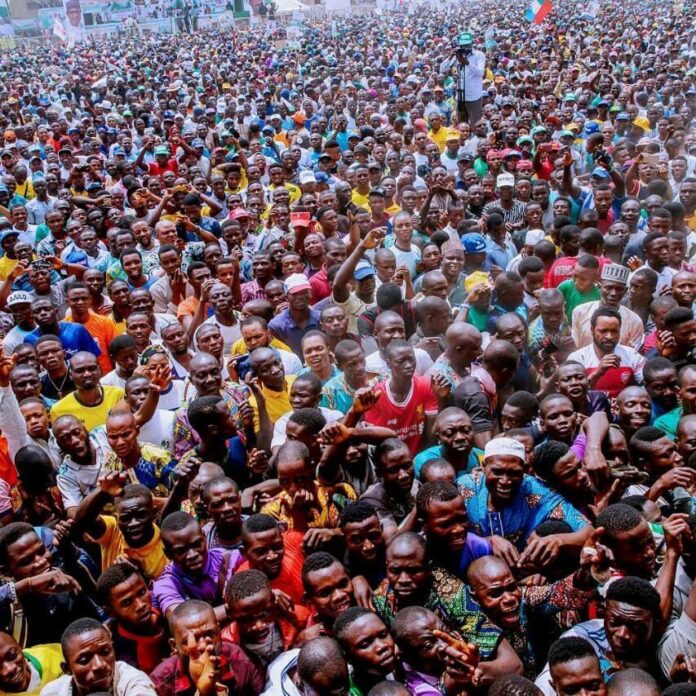 By Niyi Jacobs
Millions of Nigerians, already harried by the worst inflation in history, could be further threatened by starvation from food shortage in the country, which has reached far beyond measure.
The United Nations (U.N.) recently released a report showing that food insecurity in parts of Nigeria has reached "catastrophic" levels.
The analysis, conducted primarily by the U.N. Food and Agriculture Organization (FAO) and the World Food Programme, say Nigeria, Ethiopia, South Sudan and Yemen remain at 'highest alert' as countries with catastrophic conditions.
According to the report, almost 20 million Nigerians are "facing high levels of acute food insecurity", including 1.2 million in an emergency, if humanitarian interventions are not scaled up and sustained.
The situation is particularly pathetic and ironic for Nigeria because of the kind of potential she has. The country has over 80 million hectares of arable land, with over half of it yet, to be utilized. Also, almost 300 cubic metres of water is available in the country, yet she spends about $10 billion annually importing food and agricultural produce, most of which are wheat, rice, poultry, fish and consumer-oriented foods.
One of the adverse effects of the high food importation bill is imported inflation. This has put pressure on the exchange rate, leading to devaluation-triggered inflation with prices of food items shooting up beyond the reach of those at the bottom of the ladder, as it is the case now.
Challenges of Importation
The bills include issues affecting import trade in Nigeria ports.
Presently, there are myriads of issues affecting import trade negatively in Nigerian ports, starting from the day the goods arrive to when they are cleared from the port, shippers have said.
They listed the issues to include failure of shipping companies to receive empty containers, high cost of transporting containers, and collection of official and unofficial payments by government agencies among others.
Jonathan Nicol, president, Shippers of Shippers Association of Lagos State, who stated that shippers lose money even after clearing their cargoes due to the fact that shipping companies have failed to retrieve empty containers, said imports and exports trade have continued to suffer in recent time.
According to him, manufacturers and shippers suffer huge clearing bills while getting their consignments delivered to them.
For instance, trucking has become another challenge such that shippers pay as much as N1 million to transport container to a nearby city like Ibadan while local trips cost between N350,000 to N800,000 which is unacceptable.
"Today, trade facilitation no longer exists in our ports. Some agencies are making so much money from shippers instead of advising government to control excesses at the port. The Federal government agencies are sapping shippers dry through official and unofficial compulsory payments made on every consignment," Nicol said in the statement sent to BusinessDay.
Nicol, who stated that clearing cargo in Nigerian ports is eight times more than the cost of the goods, said that in clearing goods, shippers must get extra funds for distribution to corrupt platforms in the ports, which is one of the reasons goods are abandoned at the port, hence, this has affected importation in to the country
Nigeria's importation of food and agricultural products from the US only averaged $537 million in the last five years, with about 70 per cent of that wheat.
Wheat Industry in a dire strait
Specifically for Wheat, Nigeria in 2020, imported 1.29 million metric tonnes of wheat from US, being the fifth largest US wheat importer in the world. That was only 40 per cent of what Nigeria imports, as she holds on the market by US-origin wheat. Whereas Nigeria is a beneficiary of African Growth and Opportunity Act (AGOA), she is not able to take full advantage of that due to concerns about the country's SPS/food safety system, with exports of Nigerian food and agricultural products averaging $50 million annually.
No doubt, the wheat industry is in a dire strait, considering the enormity of its current challenges. This has negatively impacted the price of flour, forcing many bread producers to shut down, while confectionary makers also abandon the business, as they could not break-even.
No doubt, the wheat industry is in a dire strait, considering the enormity of its current challenges. This has negatively impacted the price of flour, forcing many bread producers to shut down, while confectionary makers also abandon the business, as they could not break-even.
The National President, Wheat Farmers Association of Nigeria (WFAN), Salim Muhammad, said Nigeria spends over $4.2b yearly on importation of wheat to meet its local demand of over 4.7 million metric tonnes.
Also, a study by KPMG attributed the growth in wheat demand to usage by manufacturers of wheat-based foods such as flour, pasta, semolina, noodles and wheat meal.
Though the Central Bank of Nigeria (CBN), some time last year announced that it has facilitated the importation of about 13,000 metric tonnes of improved and heat-tolerant wheat seeds, which were being multiplied in Jos, Plateau State and other locations, but farmers and other stakeholders are of the opinion that the step is just like a drop of water in the ocean, as it will not bring the expected solution to the struggling industry.
A wheat farmer based in Zaria, Kaduna State, revealed that the country is heading towards a low wheat production as banditry and kidnapping activities have pummeled Northwest Nigeria, which is the primary wheat cultivation region.
He added that wheat is grown mostly in Borno, Bauchi, Yobe, Kano, Jigawa, and Zamfara states, saying, "Currently, these states are under intense military operations to expel terrorists and bandits. These restrictions make it highly difficult for farmers to access their farms. Closing the produce supply gap may take some time as we are far from producing maximally because the will-power is not there at all."
Help the Manufacturers
THE Manufacturers Association of Nigeria (MAN) says scarcity of foreign exchange (FX) and high cost of funds are two biggest hiccups facing industries in the country.
Mansur Ahmed, president of MAN, said shortage of forex and logistics were key issues hurting the growth of manufacturing companies in the country.
Ahmed pointed out that regulatory pressure, poor port administration and policy somersaults were other challenges faced by players in the sector.
"The implication of these challenges highlighted is that it impedes the growth and development of the manufacturing sector, thereby affecting the attainment of the sector's full potential of massive job and wealth creation," Ahmed said.
Nigeria relies on crude oil proceeds for 90 percent of foreign exchange and more than 50 percent of revenue, according to government documents.
Low crude oil prices since late 2014 have led to diminished dollar inflows, resulting in acute foreign exchange scarcity in Africa's biggest economy.
Nigerian manufacturers import 40 percent of their raw materials, sourcing 60 percent locally, according to the latest Executive Summary of Economic Review published by MAN (in 2019). Manufacturers are struggling to find the greenback needed to import inputs, with many of them unable to meet supply targets due to lack of raw materials.
Some top manufacturers who spoke with westafricaBusinessNews on the condition of anonymity, for fear of being victimized by the Central Bank of Nigeria (CBN), said they only got 2 to 10 percent of their dollar needs from the foreign exchange market in the last two years.
"We asked for 60,000 dollars to import our raw materials, but we were only given 3,000 dollars by our bank," one manufacturer in the textile sector, who imports inputs from China and India, said.