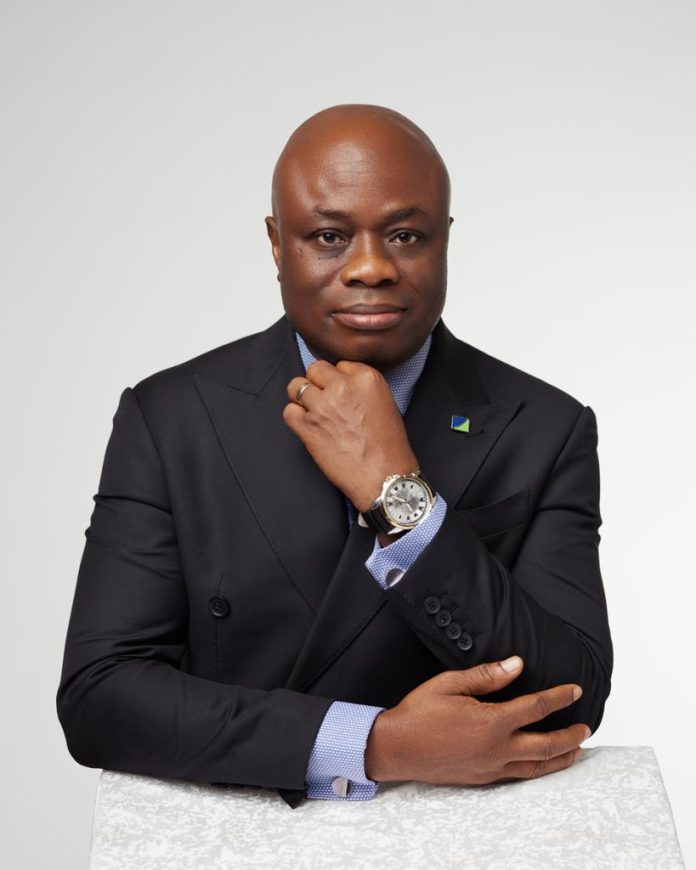 Dr. Ken Opara is the President/Chairman of the Council of the Chartered Institute of Bankers of Nigeria (CIBN) and an Executive director with Fidelity Bank Plc. Opara articulated more about his upbringing, vision and plans for CIBN and the banking sector in this interview with NIYI JACOBS .

Could you take us through your upbringing and career as well as the journey to becoming the President of CIBN ?_
I had my early life in Imo State, Southeast Nigeria. I hold a B.Sc. degree in Finance with Second Class Upper and an MBA in Banking and Finance from the University of Nigeria, Nsukka. I got a Ph.D. in Credit Management from the International University of Panama. I also attended executive management and professional programmes in top institutions around the
world including Harvard Business School, Kellogg School of Management, Wharton Executive Business School (University of Pennsylvania), INSEAD International Business School, the Lagos Business School, among others.
My professional experience spans over 31 years. I have worked with several financial Institutions; due to my focus and ingenuity, I distinguished myself in the profession, rising through the ranks to the top.
Currently, I am an executive director at Fidelity Bank where I oversee the bank's largest business directorate with many remarkable achievements to show.
As a professional banker with a great passion for maintaining the dignity of the banking profession, I have been a mentor and a great source of inspiration to young and upcoming professionals.
Within the period of my leadership, the CIBN has continued to be of great impact, especially through the reorganization of the CIBN Mentoring Scheme where young bankers are coached on the ethics of banking and key areas to help them become well-rounded professionals in the field of banking.
I am an associate member of the Institute of Certified Pension of Nigeria as well as an associate of the Chartered Institute of Credit Administration.
Which of your roles would you say is the most challenging ?_
I have had the privilege to work across different functions in the banking industry, both banking operations and business development.
Each of these functions came with its unique challenges and there were key learnings for me as each role prepared me for the next, all the way to the position I occupy today. I love to describe myself as one person who is open to learning and who loves to embrace opportunities for continuous growth.
Part of the responsibilities of the Institute is to ensure ethical standards and professionalism among members. Do you plan to collaborate with professional bodies in achieving this?
Ensuring ethical standards is at the heart of our work at the CIBN.
The existence of the institute is to develop standards for banking practice and ensure that they are complied with.
This is the reason the CIBN is empowered by law to enlist all banking professionals as its members, organize sufficient education for them to ensure that they are constantly reminded of the ethical standards to which the profession is called and expected to live up to.
To answer the question directly, we have a partnership with relevant bodies such as RIMAN, APBN, fintech and others.
We hope that with renewed collaboration and focus, we will have a stronger ethics and professionalism culture not only in the banking industry but also across all strata of the financial services industry.
There have been calls that ex-bankers should be barred from acting as consultants to customers for a certain period, especially in matters in which they have vested interests. What is your position on this ?
I do not believe that a period should be set for ex-bankers during which they
may not serve as consultants to customers of banks.
The CIBN provides a practice licence, which permits ex-bankers upon retirement from the industry to provide professional banking services to interested members of the public, given their wealth of experience in the industry.
In any case, where an abuse of privilege is established against any ex-banker or where there is a conflict of interest, the Ethics and Professionalism Sub-Committee of the CIBN is usually engaged to review and adjudicate as necessary.
So, I believe that there is sufficient control that will guide ex-bankers in discharging their professional responsibilities as consultants to members of the public who may be interested in their services. *
*
_
How would you rate the performance of Nigerian banks in the post consolidation era, especially in supporting the real sector of the economy?
_
Banks have continued to play pivotal role in supporting the real sector, including agriculture and value chain.
There have been specialized institutions set up or backed by the CBN to ensure that all opportunities are properly harnessed and provided with the required support for success.
Most bank have specialized desk aimed at providing value enduring services to support the growth or real sector.
There is no doubt, post-consolidation
Ushered in an era of a stronger capital base for Nigerian Commercial banks.
The enhanced capacity has enabled them to support various sectors of the economy.
However, banks need to build collaboration with development financial institution to deepen access to long term fund.
Some of the DFIs include the African Import-Export Bank (Afreximbank), the African Development Bank (AFDB), the Bank of Industries (BOI) and the Development Bank of Nigeria
(DBN). Under the partnership, the funds are provided by the DFIs while disbursement to qualified customers rests with the Bank. Qualified Corporate and SME customers are assessed and appraised by banks according to their internal risk management process and criteria before deciding whether to extend the loan.
Banks assumes the credit risks of the loans extended under these programmes and are also responsible for the monitoring of the loans extended.
Additionally, the Central Bank of Nigeria (CBN) has made available several billions of naira in intervention programmes targeted at stimulating growth in the real sector of the economy.
The Real Sector Support Facility (RSSF), for example, does not only provide funding but does it at a single-digit interest rate.
These are impressive developments worthy of recognition. However, we are not yet there as there are still much grounds to cover. For instance, we still have major infrastructural gaps in power/energy, transport and other areas that are key to economic development.
These gaps require the support of Development Financial institutions (DFIs), in providing specialised funds atsingle digit interest rate. Fortunately, the CBN has launched Infrastructure Company Limited (InfracCo) aimed at supporting infrastructure development in Nigeria.
In your acceptance speech as CIBN President, you encapsulated the strategic focus of your administration under the acronym: 'FUTURE'. Could you go through the steps of achieving your vision? How do they fit into the overall vision and mission of the Institute?
CIBN prides itself as the foremost body that fosters ethics and professionalism in the conduct of banking activities. We hold dearly integrity, professionalism, innovation, and ethics as core values that should be entrenched across the board. Our mission in the two years of my presidency is to be that dependable partner to the operators, consumers, and regulators towards
embracing the critical challenges the future of banking has posed while building upon the solid structure that our past leaders have led over the years, as well as supporting sound ethical practice.
Specifically, my presidency is focused on innovating the banking profession in tandem with recent global realities. We came up with actionable initiatives to achieve this, which we summed up under the acronym 'FUTURE' which is a strategic imperative that encapsulates a thorough evaluation of the immediate and long-term challenges and opportunities facing the banking industry and proffers action steps required to navigate and succeed.
This is how I came up with 'FUTURE'. F – Financial innovation and transformation, U – Dealing with industries uncertainties, T – Trade and finance collaboration, U – Unveiling pathways for membership growth, R – engineering and rebranding the industry business model around Gen Z and E – Ethical conduct and governance.
In less than a year, we have made remarkable progress under each of these initiatives. Under the financial innovation and transformation initiative, we have signed and implemented MOU with the Fintech Association of Nigeria (FinTech NGR) and Financial Services Innovation (FSI) to deploy fintech certification for Nigerians who want to play in the fintech space.
We have gone far in the digitalization of all our members' interface and core processes of the Institute, including seamless financial transactions to ensure members get benefits instantly.
We have energized our member portal for effective communication with the institute and provided digital ID cards for members' use especially with our affinity partners (airlines, hotels, shopping malls etc.) to enhance members' benefit.
In dealing with industry uncertainties, we desire to partner with various government agencies in making quality contributions towards budget and planning, as well as strengthen and equip our Centre for Financial Studies to drive strategic inputs into economic policies of the governments across the hierarchies.
We have submitted communique and position papers on many national issues and are glad that some of our suggestions are reflected in some of the policies that the government is coming out with to manage the current economic challenges of the nation.
We have organized programmes on non-oil export aimed at stabilizing banks' FX supply.
Banks are encouraged to focus on this important FX spinner for export earnings. This will have a direct impact on the nation's economy in general,
in addition to reducing the pressure on the already stretched FX positions of banks.
We have instituted a human capital development fund for training and retraining of the industry workforce.
In the case of trade and finance collaboration, we have executed several MOUs on joint capacity development programmes, workshops and contenton financial literacy, inclusion and research on trade payment with the PanAfrican Payment Settlement System (PAPSS,) Bankers Association for Financeand Trade (BAFT), European Banking and Financial Services Training Association (EBTN), World Financial Innovation Series (WFIS) and World Conference of Banking Institute (WCBI), Global Banking Education Standards
(GBEStB), West African Bankers Association (WABA) Alliance of African Institutes and others. Unveiling pathways for membership growth agenda has seen us conductseveral awareness programmes across different bank academies.
We are working with heads of human resource departments of banks and I am glad to report that this is translating into membership growth.
A formal launch of the Lagos Business School MBA/SMPACIB was done on November 4, 2022. This is designed as a pathway for membership of the Institute as it would allow interested candidates to run the MBA/SMP programme at the prestigious Lagos Business School and qualify with dual qualifications MBA/SMP and ACIB.
As for the fifth point of the agenda, we have created a Generation Next and innovation committee dedicated to achieving this initiative. The committee has conducted a useful report that would help drive membership. At the 2022 Annual Baking and Finance Conference held from September 13 to 14, 2022, we had Generation Next as part of our primary target audience with cocktail and talk shop events for all the millennials and Gen Zs at the conference. Following, we are looking forward to the maiden Edition of the annual Generation Next forum in the second quarter of 2023. Ethical conduct and governance are core to our mandate. The code ofconduct has been deployed to all the banks including the newly licensed once and microfinance banks. As of August 2022, a total number of 37,873 staff of banks have completed the attestation to the code of conduct in the Nigerian banking industry. As part of further strengthening the ethics and professionalism, we are instituting an annual corporate governance assessment framework and whistle-blowing policy.
We have completed and commissioned legacy projects at Federal Polytechnic, Nasarawa, and Kano State Polytechnic. Work has commenced at Olabisi Onabanjo University, Ogun State University. The Nnamdi AzikiweUniversity project will soon commence.
The financial inclusion drive comes with its challenges, including the astronomical rise in incidences of fraud. What do you suggest as practical solutions to stem the tide?
Like you rightly pointed out, every good policy has its challenges. It is the same for financial inclusion. Financial inclusion is the provision of a broad range of high-quality financial products, and pensions, which are relevant, appropriate, and affordable for the entire adult population, especially the low-income segment. As a result of the major strides being made in the financial inclusion area,
there has also been an upsurge in cybercrimes. The criminals keep looking for loopholes in the existing and newly introduced payment systems through which they can defraud unsuspecting members of the public. However, each institution is expected to continue to put in place adequate controls to mitigate the risk of attacks. Internal control systems should also be strengthened for early identification of the vulnerability areas with a view to building required firewalls to reduce the possibility of an untoward incident.
According to July 2022 statistics provided by EFInA (Enhancing Financial Innovation and Access), over 36 per cent of adults in Nigeria are financially excluded. These are persons who do not have access to high-quality financial products as described above. This creates a huge opportunity for the financial sector as DMBs have all begun building digital platforms to reach the unbanked and under banked in Nigeria. However, this also comes with challenges around the security of the payment platforms and systems as fraudsters would work to take advantage of any loopholes to steal innocent members of the public.
So far, the banks are doing a lot, working collaboratively with CBN and other relevant agencies of government, both locally and internationally, to preempt the activities of these fraudsters who would try to explore any loophole to defraud the system. We will continue to encourage and support initiatives that seeks to protect the banks. Along with this, CIBN will continue to provide capacity program and consumer education.