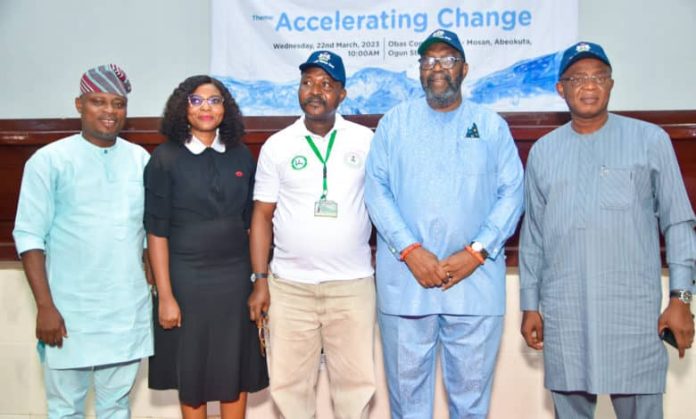 Ogun state
Ministry of Environment,
Nestlé Nigeria and Ogun State Ministry of Environment have recently hosted a stakeholders' forum on to commemorate World Water Day 2023.
The event which was held on March 22, 2023 was aimed to promote sustainable
water stewardship practices, the forum had over 400 stakeholders drawn from the public
and private sectors across Ogun State
.
World Water Day is a United Nations' observance day toraise awareness about the
inaccessibility of water for billions of peope globallyand to advocate the sustainable
management of freshwater resources.
Without access to water resources, communities
are faced with higher risk of disease, food insecurity, environmental degradation, and
economic decline.
The theme for this year'sevent, "Accelerating Change",draws attention to the need for
fast-trackingactions to solve the global water and sanitation crisis.
Oladimeji Oresanya, Ogun State Commissioner for Environment, said, "The event today is
not just another talk show, butan opportunity for productive engagement with all stakeholders
to undertake a critical diagnosis of issues affecting the sector to proffer practical and
sustainable solutions.
Be assured that the Ministry is committed to accelerating positive
change in the water sector to ensure water and sanitation for all in line with Sustainable
Development Goal 6. I commend companies who have embraced water stewardship and are
executing initiatives and projects, towards sustainable water management and governance in
the state".
Wassim Elhusseini, MD/CEO Nestlé Nigeria PLC, represented by Category and Marketing
Manager Nestlé Waters, Joy AbdullahiJohnson, said,
"We are delighted to have this
opportunity to celebrate World Water Day 2023 in collaboration with the Ogun State
Ministry of Environment. The theme for this year,