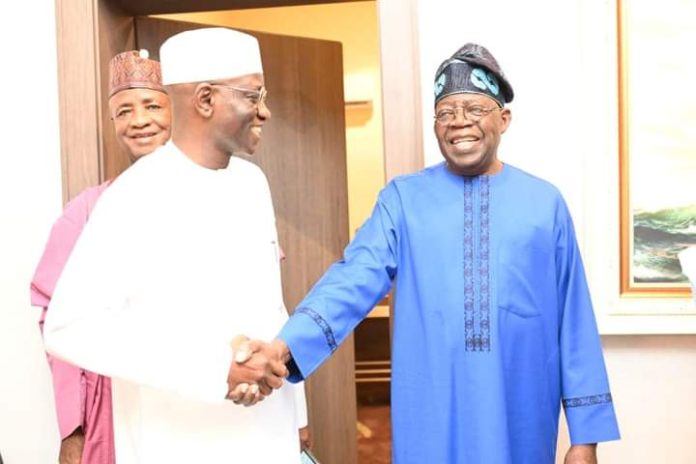 Rt. Hon. Ahmed DSW Aliyu became visible public figure, coming to clear focus through his accomplishment as grassroots politician. His life, his convictions and his administration in all his appointment pose an unmistakable challenge to his time to which he was in many other respects so well – attuned.
He had never been paralyzed by challenges or complexity. He worked through complexities intellectually. An outstanding man, his skills as a listener honed in administrative life is transferred to any kind of responsibility bestowed on him and would not cease but rather continue on a superficial way.
These striking characteristics gave his life a remarkably rich texture and endeared him to a lot of people he worked with and those who worked with him. In all his business transactions with associates he pain stake and carefully exercise the exceptional privilege to serve, he pain stake and carefully exercise the exceptional privilege to serve. He is a large figure indeed and not simply because of the privilege position he found himself but because of the integrity with which even his most implacable critics concede he wields.
As a young man, Wadada worked in urban cities where he found dignity and peace. He recognized common humanity and knows that words and bold act help meet peoples need. His formative years built his capacity to lead and serve the needs of people under him. In all his appointment he takes concrete steps to succeed.
Educated at Abdu Zanga Primary School, Keffi, Government Secondary School, Miango, Jos, School of Preliminary Studies, Keffi and Federal Polytechnic, Nasarawa, quite an intelligent and brilliant personality, he had a straight run through his educational pursuit. DSW, a man of real fibre and of brilliant achievement in his career, charismatic and calm; an enthralling mix of cultured intellect and sheer hard work had a successful administrative career despite the enormous challenges and obstacles that came his way. With a sharp and clear analytical mind, he is a risk taker. A personable man and an excellent conversationalist, DSW is someone with confidence that you cannot help admiring, even if you hate him.
He is a great brand politician and effective human resource manager, who have the face to advertise his achievement. He never forgets favour done to him neither does he remember wrong done to him. A role model, someone with the interest of all those under his ambit at heart which reflect in the way he goes about the finest role he always brought to position of responsibilities he held; An administrator per excellence and a man with impeccable integrity, a workaholic and prudent manager of both human and material resources, a trusted companion and a good friend. He touches many lives for good.
Stepping back from the conventional analysis and looking at this well-known public figure from a different angle from inside the convictions and commitment that makes him who he is. It may help to begin by thinking of him as a man who grew up very fast.
The events that shaped his early life developed his interest and concern, a function of his particular, specific and radical political commitment, the very structure which is dramatic. His radicalism is a simplicity that lies on the far side of complexity to which he is very much attuned with.
DSW recognizes his goal to a reach which requires dedication and sacrifice. With a strong fighting spirit he overcomes formidable obstacles which goes to show that fear is no match for dream when he ventured into active politicking after his administrative career.
This provided him opportunity to meet with politicians of repute both in government and out of government bringing about his political connectivity. With the power to make a sudden decision and hold to it with passion and tenacity, when he ventured into politics, DSW astonished those who thought they knew him.
Though he did not completely break with his past life but in politics he was moving forward to something new. A revolution in his thoughts and his relationship with others in the field of politics came to the fore. He ignited a fire that would continue to burn for a long time in the politics of Nasarawa State though he was one brick in the wall.
However, as an astute politician, he became the bricks making a road way for youths to walk to their goal. With hidden forces that usually produce the strongest action, Hon. DSW embedded with such forces brought a careful thought-out view of youth restiveness situation to his responsibilities investing in the future of the youth by creating self-employment opportunity for them. An inner quality of his that attracts popular cheer and confidence as source of solution to the needs of the youths. He is progressive, thus became the focus of the aspirations of the younger generation.
With his privilege position, DSW has made a tremendous impact on the life of the youths of Nasarawa State because he speaks and understands their language. Standing up for the right of every youth, opening the doors of opportunity to the youths, it was the beginning of hope for the children of the down trodden masses of the society. However, how well the lucky ones use that opportunity is another thing in entirely.
One outstanding quality of Hon. DSW is his ability to attract people to himself despite all odds. He tries as much as he can to assistants all those who come his way for help. He does not keep the benefit attached to his privilege position to himself or to his immediate family or even to his close political associates but rather extend it to all and sundry.
When it comes to assisting the needy, Hon. DSW is generous to a fault, considering his childhood background, he does not wish for anyone to lack the basic need of life and so he tries as much as he can to reach out to the less privilege in the society because he does not attribute all human ills to economic conditions but to man's relationship with fellow man and with God his Creator.
With this conviction in his sub- consciousness, arguably Hon. DSW has made a great impact on the lives of more individual than any other of his contemporary.
From childhood, DSW shows signs of leadership as well as an achiever. He was Class Monitor and Senior Prefect in his primary school days at Abdu Zanga Primary School, and Social Prefect at Government Secondary School, Miango. Consolidating on his experience, courage, the power of his mind, his knowledge and strategy with calm judgment, a positive ambition young man, he ventured into active politicking on the platform of People Democratic Party (PDP).