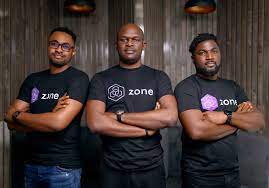 Endeavor concluded the 37th Virtual International Selection Panel (ISP) held May 22-24, 2023, with the selection of 11 new high-impact entrepreneurs representing six companies from five markets, including Nigeria's Zone founders, Obi Emetarom, Emeka Emetarom and Wale Onawunmi.
​​Zone (formerly Appzone) is a regulated blockchain network that enables payments (by connecting banks and fintechs) and acceptance of digital currencies. Zone became Africa's first regulated blockchain-powered payment network after securing a switching and processing license from the Central Bank of Nigeria. Zone's blockchain-powered payment infrastructure allows participating institutions to connect directly with each other and perform payment transactions without an intermediary while completely automating settlement, reconciliation, and dispute management.
In a strategic move in November 2022, the company, spun off its legacy Banking as a Service business, birthing a new entity called Qore while it evolved its focus to become a pure-play Payment Infrastructure company with a new brand name, Zone. Qore is Appzone's legacy banking-as-a-service platform that enables financial institutions across Africa to achieve digitization and service automation. Today, it is deployed by 600+ financial institutions across 7 African countries. Emeka Emetarom leads Qore as CEO, while Obi Emetarom and Wale Onawunmi lead Zone as CEO and CTO, respectively.
Commenting on their selection into the global network, Obi Emetarom, Co-founder and CEO at Zone, said, "Joining the Endeavor network underscores our unwavering commitment to reshaping Africa's payments landscape. The network's pledge to support entrepreneurs resonated with us from our first encounter. As we continually strive to deliver reliable, frictionless and universally interoperable payments to Financial Services Providers in Africa and beyond, Endeavor's platform will significantly fuel our growth and extend our reach."
Wale Onawunmi, Co-founder and CTO at Zone, adds: "We're thrilled to be part of this prestigious global community. Entrepreneurship thrives on collaboration and shared learning, and Endeavor embodies this spirit. We look forward to leveraging this unique ecosystem of entrepreneurs, partners, and investors, driving our technical prowess to further levels of innovation and efficiency in the payment sector."
Emeka Emetarom, CEO at Qore, comments: "It's an honour to join the Endeavor network. A community like Endeavor is a significant boost on the journey to creating groundbreaking financial solutions. We're confident that the global insights, mentorship, and support from Endeavor will tremendously enrich Qore. As we shape our company into a global leader in Banking as a Service, we equally look forward to contributing significantly to this vibrant community."