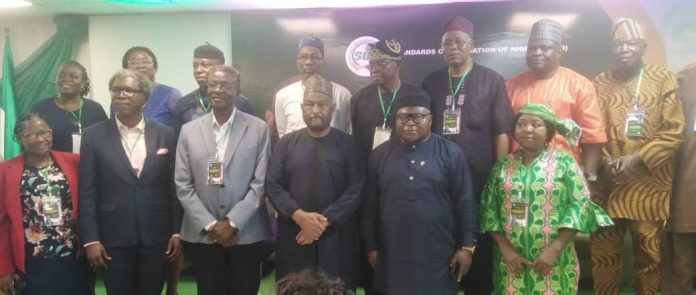 The Standards Organisation of Nigeria (SON) has trained Micro Small and Medium Enterprises (MSMEs) standards to enable them compete globally and earn forex.
This will further mitigate the forex crisis currently experienced in the country, as more export earnings will help in revitalizing the national economy.
The Director General of the organisation, Mallam Farouk Salim, who stated this during the question and answer section at the general sensitisation and training for MSMEs,
themed: "Products Competitiveness: Driving Home-Grown Economy Via Standardisation," noted that competition is what drives the world today.
He noted that in every sphere of life, there is serious competition going on and so if one has to compete, it means one must be ready, prepared and equipped to compete actively, effectively and profitably.
Charging participants that the ball is rolling in their courts towards harnessing the benefits of the Free Trade Zone, Salim pointed out that the county requires local products that are borderless; products that Nigerians in the Diaspora, quite millions of them, can patronize; standard and quality products that are acceptable and competitive anywhere across the world, particularly in Africa, "now that we are preparing for the common market- African Continental Free Trade Agreement (AfCFTA). Nigeria, the giant should not 'carry last' in AfCFTA."
Applauding the training, Salim explained that product competitiveness requires that the particular product must have been manufactured or produced in accordance with good manufacturing practice.
He appreciated the efforts of MSMEs towards growing their businesses and developing the economy, he, however asked them to do more. "Most of you have been working closely with SON to produce quality goods. We are proud of this positive development-that SMEs and industrialists are producing good and quality products. However, we need to do more. We are encouraging all of us to do more; that is why we are bringing standardisation closer to your doorsteps. Training workshops and sensitisation programmes like this mean that SON encourages the growth of businesses and local industries.