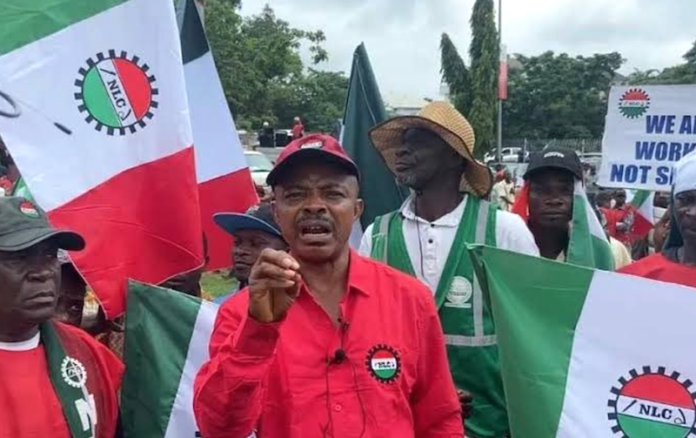 The national leadership of the Nigeria Labour Congress (NLC) has listed six conditions that must be met before labour unions in the country will call off their ongoing indefinite strike.
It listed the six conditions in a post via its official X handle (formerly known as Twitter) on Tuesday.
The NLC said, first, Chinasa Nwaneri, a special adviser to the Imo governor on special duties who allegedly led the attack on the NLC president and other workers in the state must be arrested and prosecuted.
The union also said all police officers as well as thugs involved in the attack on the labour leader should be arrested, prosecuted and dismissed.
It also demanded the arrest, prosecution and dismissal of the Chief Security Officer in Imo State Government House simply identified as SP Shaba.
"He led, participated and provided cover for thugs to brutalise workers in Imo State," the NLC alleged.
Another condition given by the labour union was the arrest, persecution and dismissal of an unnamed police area commander who it said supervised the brutalisation of the NLC president and other workers in the state.
The sixth condition for peace was that the former Commissioner of Police in Imo State, Ahmed Barde, must be investigated and prosecuted for his alleged involvement in the assault of the NLC chief.
"Our demands are simple. We want justice," the group wrote in the X post.
The NLC, the Trade Union Congress (TUC) and its affiliates including the Academic Staff Union of Universities, on Tuesday, began a nationwide strike, in defiance of a restraining court order barring them from embarking on the industrial action.
The two major labour unions, NLC and TUC, had declared the strike, to protest the brutalisation of the NLC president, Joe Ajaero, in Imo State on 1 November.
Mr Ajaero was attacked in Owerri, the state capital, during an NLC protest against the Imo State Government over alleged maltreatment of workers in the state.
The NLC also accused the Imo State Governor, Hope Uzodinma, of mobilising the thugs and the officers to attack the NLC president to frustrate the planned protest in the state.
But the police later denied arresting Mr Ajaero, saying they only placed him in protective custody to shield him from attack by the thugs.
In his first comments, Governor Uzodinma blamed Mr Ajaero for his alleged partisanship in the state.
The unions on Monday directed its members to down tools across the country from Tuesday, despite a restraining order issued by the National Industrial Court, in Abuja, on Friday, stopping the labour unions from embarking on the strike.