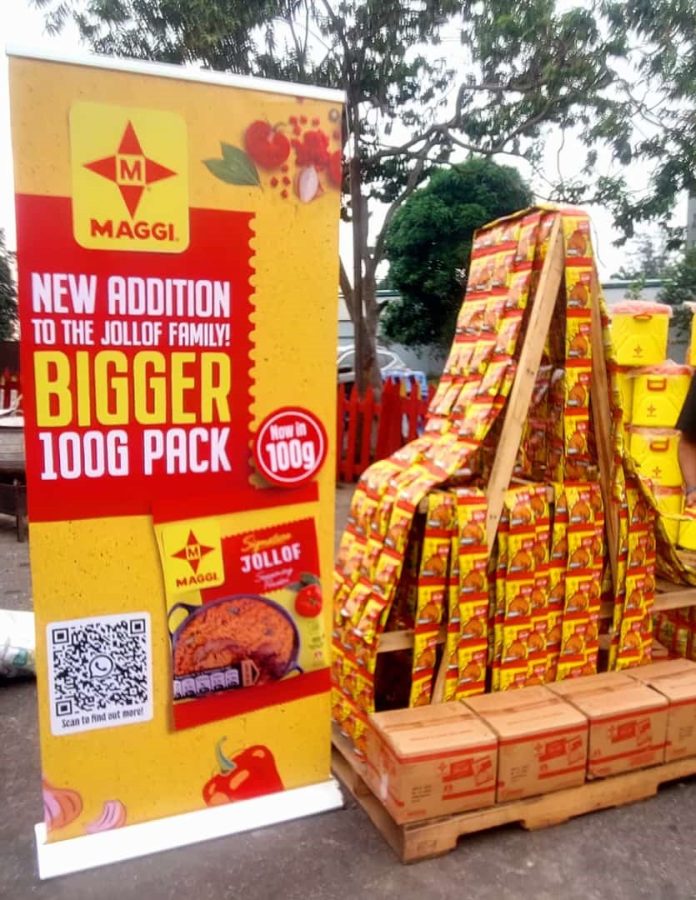 At a Jollof Carnival hosted in Lagos, Nestlé Professional unveiled a new 100g pack size of MAGGI Signature Jollof Seasoning Powder, a convenient and affordable option for out of home users including restaurants, bukas and hotels.
With its attractive packaging and unique flavors, the seasoning in the new pack size responds to current preferences for simplicity and efficiency to help customers create the one-pot meals more consumers prefer today.
Participants at the Jollof carnival had the opportunity to prepare and taste ten different
innovative Jollof recipes including Banga Jollof, Coconut Jollof, Asun Jollof, Nkwobi Jollof, Suya Jollof, Seafood Jollof, all made from MAGGI Signature Jollof in the interactive cooking session!
Mrs. Oluwayemisi Oluokun, is a caterer and the CEO of God's Grace Events.
She was one of the participants who had the opportunity to recreate an innovative recipe, Nkwobi
Jollof. She said, "I am thrilled that the Nkwobi Jollof I made today turned out so well!
MAGGI Signature Jollof gave it such a distinctive, rich flavor.
Every caterer and chef really need to try this convenient pack to infuse the signature jollof taste into their meals."
Speaking during the product unveiling, Funmi Osineye, Business Manager, Nestlé Professional, said, "No occasion in Nigeria is complete without Jollof Rice, and that is why we are happy to introduce the 100g MAGGI Signature Jollof as an affordable and
convenient solution for our out-of-home customers.
This new pack reinforces Nestlé's leadership position and commitment to growing the culinary landscape in Nigeria."
Participants at the colorful Jollof Carnival included chefs, caterers, event planners, representatives of hotels and restaurants as well as the media.